Preface 
Instructions 
Engine type classification
Safety instructions
General notes on engine overhaul
Commissioning After Engine Overhaul 
Fault table 
Troubleshooting chart 
Engine views 
Engine lubrication schedule
Fuel System Diagram
Cooling System Diagram
Engine management schedule
Fuel system
Checking and adjusting start of fuel delivery 
Removing and Installing Injection Pump 
Removing and Installing Injection Nozzles 
Checking Injection Nozzles
Fuel Prefilter
Removing and attaching fuel filter, exchanging filter cartridge 
Flame starter sheathed−element glow plug,removing and installing
Cooling system
Draining and filling coolant 
Removing and Installing Thermostats 
Removing and installing the engine coolant pump 
Repairing engine coolant pump
Repairing coolant pump with high-temperature and low-temperature parts 
Cleaning cooling system
Lubrication
Changing the oil filter 
Removing and installing the oil cooler
Removing and installing the oil pan
Removing and Installing / Repairing Oil Pump 
Removing and Installing Oil Spray Nozzle
Intake / exhaust system
Removing and installing the intake manifold 
Removing and installing the exhaust manifold
Removing and fitting exhaust-gas recirculation (EGR) module 
Turbocharger, troubleshooting 
Checking charging pressure
Removing and installing the turbocharger
Measuring the axial / radial clearance or the turbocharger shaft
Cylinder Head
Removing and installing the cylinder head 
Setting the valve clearance
Disassembling and Assembling Rocker Arm Mechanism
Removing and installing valves 
Removing and Installing Valve Guides 
Replacing valve seat insert
Reworking valve seat
Refacing Valves
Checking Compression
Download Euro4, Euro5 and EEV MAN Engine Technology
Download MAN L2000 M2000 F2000 construction period 1992-2005
Download MAN Diesel Engine D2866E, D2866TE, D2866LE, D2866LXE Operating Instructions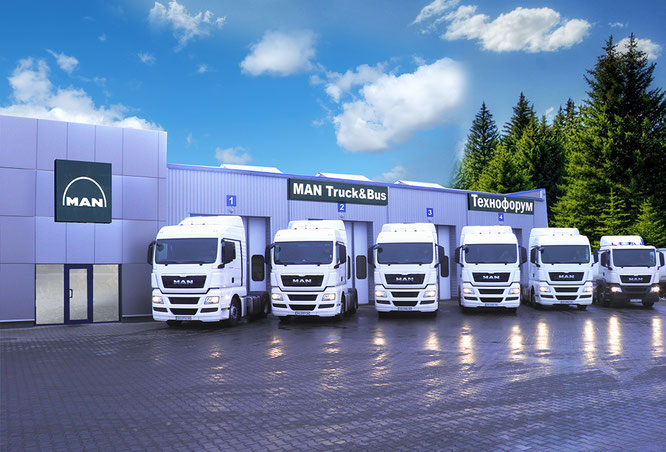 MAN is one of the oldest German engineering companies that produce trucks, buses and diesel engines. Previously existed under the name Maschinenfabrik Augsburg-Nürnberg AG. Formed in 1758, this company continues to occupy high positions on the world arena.
TGX truck series. These are classic truck tractors, characterized by maximum comfort for the driver and capable of pulling from 15 to 70 tons. These trucks are driven by engines ranging from 360 to 680 hp.
TGS truck series. The series is represented by truck tractors, classic "loners", dump trucks and various construction equipment. They can carry a payload from 18 to 70 tons with engine power from 360 to 680 hp
TGM truck series. The family consists of medium-tonnage trucks, dump trucks and classic "loners", capable of carrying from 7 to 20 tons of cargo. Models are equipped with motors with power from 240 to 380 hp.
TGL truck series. Minicar for everyday exploitation in the city. They carry a payload of 5 to 7 tons and are driven by motors with a power of 150 to 250 hp.
MAN TGA ELECTRICAL WIRING DIAGRAMS Download
MAN Electrical System – Common-rail Injection System EDC7 Download