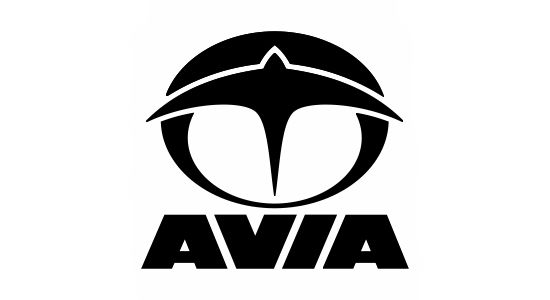 Especially when operating the vehicle
on a highway and when transporting to
a major distance, it is necessary to
follow subsequent instructions
Not to exceed the maximum permitted weight upon the front axle.
D 60 - D 75 = 2800 kg,
D 80 - D 90 = 3200 kg
To increase tire pressure of the front
axle by 80 to 100 kPa. However, the
maximum permitted tire pressure as-
signed by the tire producer must not be
exceeded.
n To take care of correct load distribu-
tion on loading area.
- to place the load in the middle of
loading area.
- to place the load evenly on loading
area.
If tires will be exchanged, it is neces-
sary to prefer:
a) tires having higher carrying capacity -
(215/75R17,5).
b) tires that are determined by the pro-
ducer to be used on highway traffic.
F1 10A speedometer, tachograph, clock
F2 10A brake lamps, instrument cluster
F3 10A indicator lights
F4 10A reverse lamps
F5 10A cab and cont lamps*
F6 10A horn
F7 10A wipers
F8 25A heated mirrors
F9 25A blower motor
F10 25A air condition*
F11 25A power windows*
F12 10A differential lock / PTO / clock display
F13 10A engine control unit-tell tale
F14 10A central door locking*,cigarette lighter
F15 25A converter 24V/12V
F16 10A instrument cluster, speedometer, tachograph
F17 10A radio
F18 10A plug EURO 12V
F19 10A LH position lamps, RH outl. lamps,
instrument cluster illumination
F20 10A RH pos. lamps, LH outl. lamps,
switches illumination
F21 10A LH low beam
F22 10A RH low beam RH, headlamp level motor
F23 10A LH high beam
F24 10A RH high beam
F25 10A LH front fog lamp*
F26 10A RH front fog lamp*
F27 10A rear fog lamp
F28 10A engine starter
F29 10A fuel heating
F30 10A air heating
F31 30A engine control unit
F32 20A SCR dosing unit
F33 5A engine control unit (ECM)
F34 5A SCR dosing unit
F35 10A ABS control unit
F36 10A ABS control unit
F37 10A ABS control unit - towed vehicle
F38 10A ABS control unit - towed vehicle
F39 25A power for towed vehicle
F40 10A trailer indicators
F41 20A sensor NOx
F42 5A airsuspension - control unit
F0 80A heating of air sucked in (in the battery box)
R01 relay IGN 2
R02 relay IGN 1
R03 side light relay
R04 low beam relay
R05 high beam relay
R06 intermittent wire relay
R07 rear fog control module
R08 front fog relay*
R09 break lights relay
R10 stop lamp monitor
R11 turn signal relay
R12 hazard relay 1
R13 wiper activate relay 1
R14 wiper activate relay 2
R15 power windows relay 1*
R16 power windows relay 2*
R17 power windows relay 3*
R18 power windows relay 4*
R19 air condition relay*
R20 heated mirror timer
R21 relay "start"
R22 relay "starter lockout"
R23 ground relay
R24 heated fuel relay
R26 trailer indicators*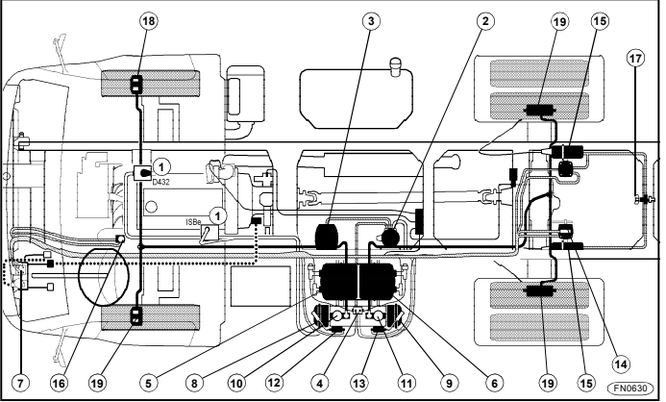 1 Compressor
2 Air pressure equaliser with air drier
3 Air tank 4.5 l
4 Four-way valve
5 Air tank 14 l
6 Air tank 14 l
7 Brake control valve
8 Air-hydraulic converter (I. circuit)
9 Air-hydraulic converter (II. circuit)
10 Brake fluid tank (I. circuit)
11 Brake fluid tank (II. circuit)
12 ABS valve (I. circuit)
13 ABS valve (II. circuit)
14 Load-dependent automatic regulator - air
15 Spring brake actuator
16 Manual brake valve of parking brake
17 Minimum air pressure switch of spring actuated
18 Front brake device
19 Rear brake device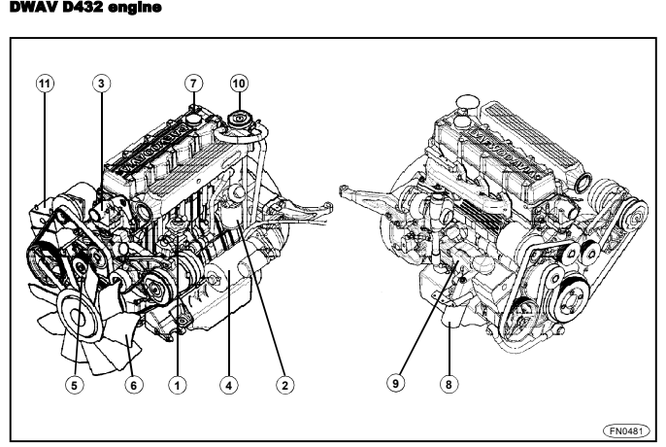 1 Injection equipment
2 Single stage fuel filter with manual pump
3 Coolant pump with thermostat
4 Starter motor
5 Tightening pulley
6 Fan with viscous fan clutch
7 Filler neck for oil filling
8 Oil filter
9 Oil heat exchanger
10 Oil separator
11 Compressor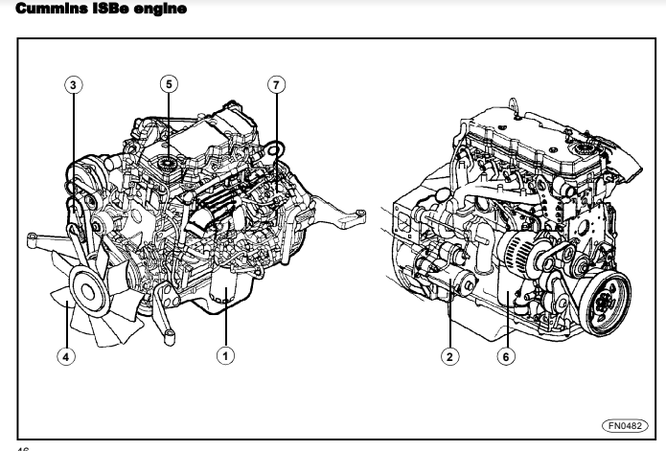 1 Fuel filter
2 Starter motor
3 Tightening pulley
4 Fan with viscous fan clutch
5 Filler neck for oil filling
6 Oil filter
7 Compressor