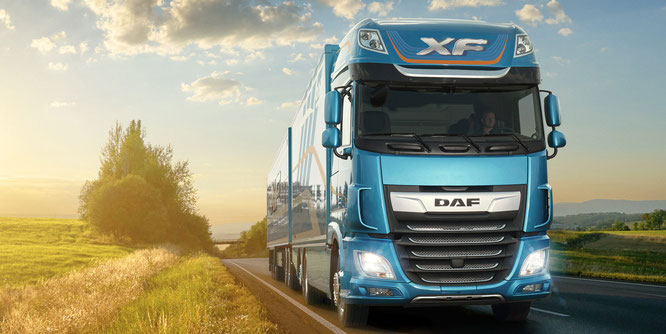 Description and explanation of errors on freight DAF systems:
AS TRONIC gearbox part1
AS TRONIC gearbox part2
DMCI engine control
Electronic module VIC-3.
Electronic module VIC-2.
Electronic module VIC-2 Lite.
VIC electronic data module
IMMOBILISER - immobilizer
ECAS-3 air suspension control
ECAS-4 air suspension control
DTCO Tachograph
ZF-INTARDER EST 42- Retarder
OPBOUWERMODULE (BBM) body compatibility module
CDS-3, central locking
ALS-S Alarm
EAS Exhaust Gas Treatment
EBS-2-Electronic Brake System
HYDRONIC 10 (ACH-EW) heater with electronic unit D901
D3LC (ACH-EA)
AIRTRONIC
EMAS steering system
UPEC injection control
AGS lubrication system
Cdm
ABS / ASR-D
ABS-D / ABS / ASR-E
ABS-E
EBS - brake system
RAS-EC
Errors on the dashboard screen: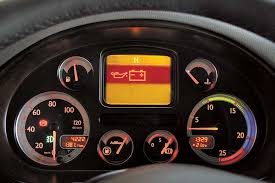 The main informational messages that appear during a breakdown.
icon on a yellow background

- should go to the repair station. But you can go, very carefully

the icon on a red background

is a very serious malfunction. Continuing to move is not advisable. (During the warranty period - it is forbidden to continue driving!)
Low pressure in the pneumatic system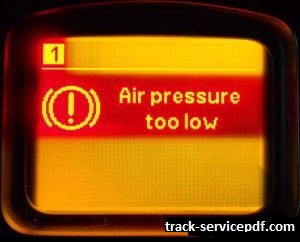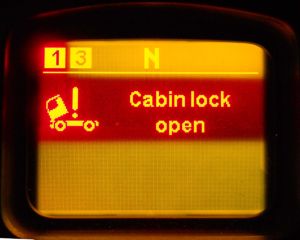 Error configuring vehicle systems. This warning symbol may mean the following is the central controller of the car, a malfunction in the electronics of the VIC (Intelligent Car Center). VIC collects information and enables vehicle features.
Or a configuration error — the programmed chassis numbers in the engine electronics and the Body Builder Module do not match.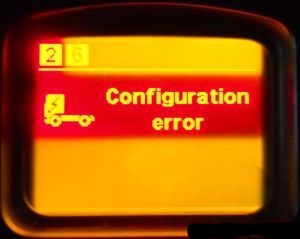 Serious malfunction of the EBS truck brake system.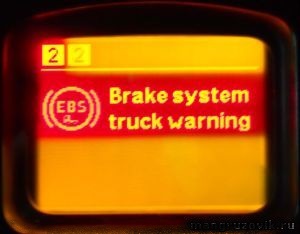 Very low coolant level or defective coolant level sensor. liquids.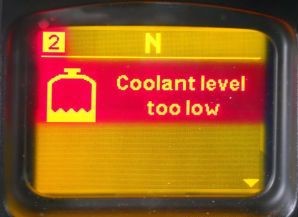 Low oil level or high in engine sump. Or the oil level sensor is defective.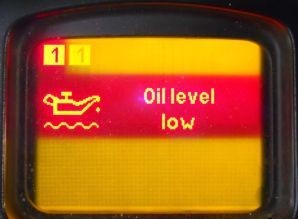 Engine control system malfunction. Immobilizer Not Unlocked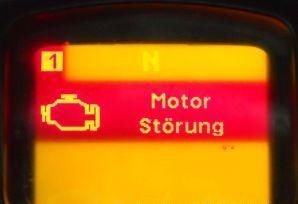 Faulty brake system EBS tractor.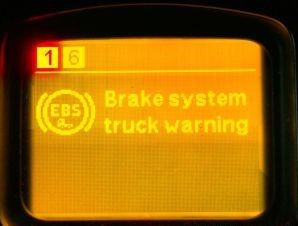 Faulty exhaust gas cleaning system. Engine power reduced for 60%. Engine power reduction is turned on and off only on a stationary vehicle.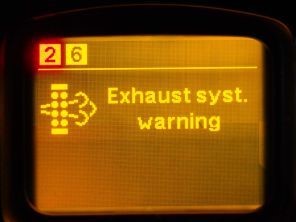 Engine malfunction. Stop the car immediately with extreme care and turn off the engine.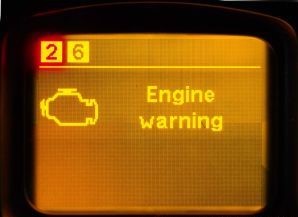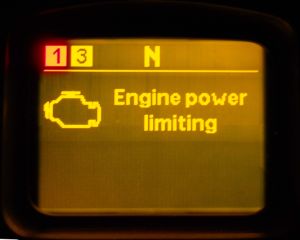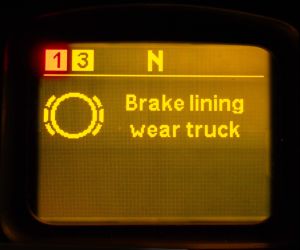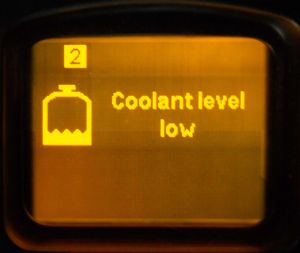 Malfunction of the gauge of a cooling liquid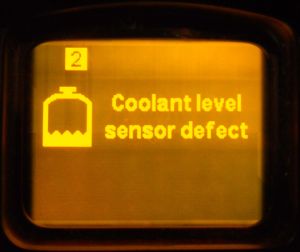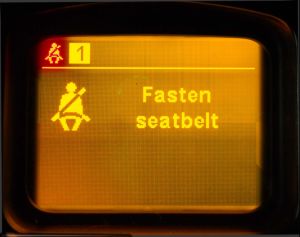 The parking brake is not activated. The car is not braked.
Malfunction of the generator / no charging or overcharging (with a faulty voltage regulator-chocolate) or undercharging.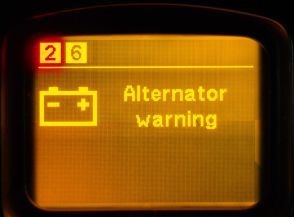 Transmission Brake / Intarder Fault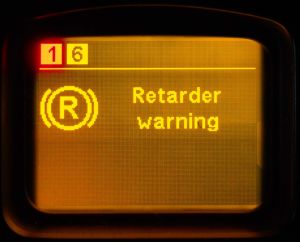 Transmission Warning.
Low air pressure in the gearbox control system. If a red warning appears while driving, the AS-TRONIC gearbox may remain in the current gear. Immediately after the vehicle stops, the gearbox switches to the neutral position and no further movement is possible.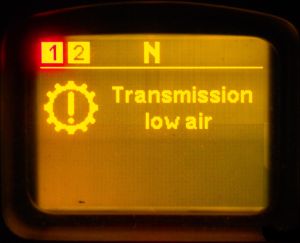 The purpose of the conclusions (electrical contacts) of the DAF car diagnostic socket
DAF EDS 7 diagnostic block OBD 2 CAN bus pinout and pin assignment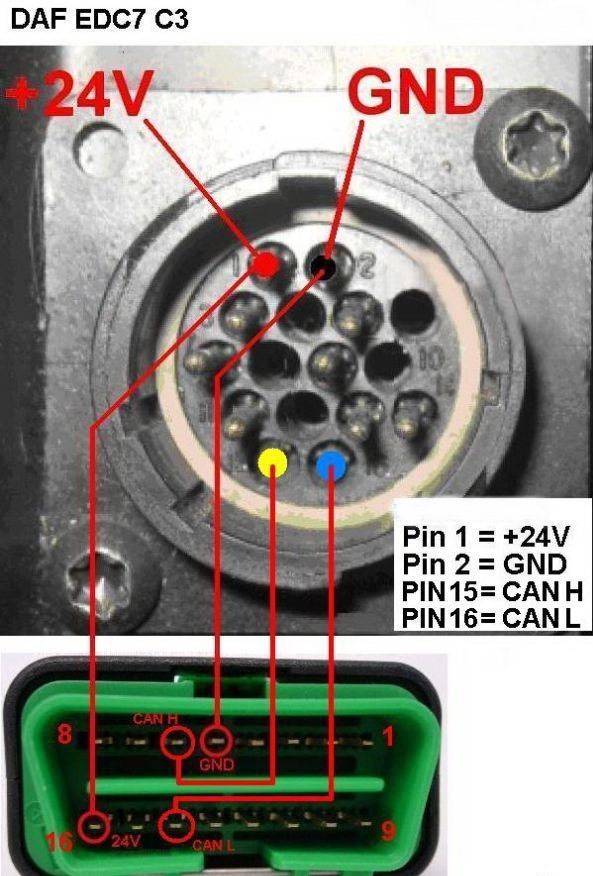 DAF diagnostic block - old-style pinout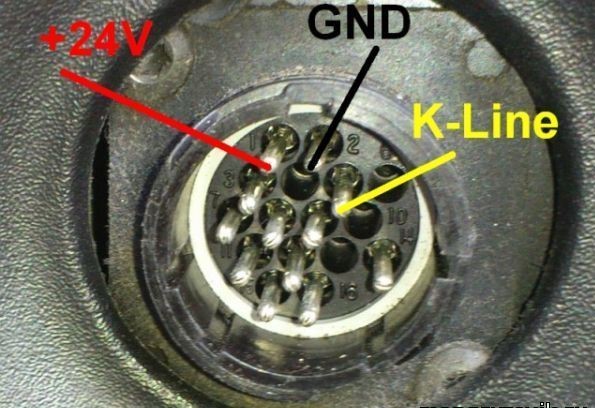 ---
11-18 Voltage on pin A8 of the EBS device is too low
12-18 Voltages on pin A9 of EBS - too low
12-31 very low voltage (<3 V) on pin A9 of the EBS device
31-52 Large deviations between the set cycle signals from the foot brake valve (F628) on EBS connector E2 and E5
32-37 no brake pedal position 1 signals in the foot brake valve (F628) on the E3 connector of the EBS unit
32-41 brake pedal position error 1 due to a short to ground on pin E3 of the EBS unit
33-37 there is no signal for depressing the brake pedal 2 in the foot brake valve (F628) on connector E6 of the EBS control unit
63-36 Interruptions on pin D1 and / or D2 of an EBS device, front axial modulator (B307) - EBS pressure control on the front axle is faulty
64-13 the parameters of the EBS control module for the rear axial modulator are not overwritten with the parameters in the rear axial modulator (D879) - ABS on the front and rear axles made faulty
64-51 Rear axle modulator output pressure (D879) - Too high - Rear axle defective
64-52 brake pressures differ between both pressure sensors in the rear axial modulator (D879)
64-54 sensor signals there is no pressure in the rear axial modulator (D879) or the signal is incorrect (too high / too low)
64-64 there may be a problem communicating the EBS device with the rear axial modulator (D879) through pins B1 and B4 of the EBS - ABS device on the front and rear axles
66-12 incorrect signal from the control valves of the machine (B308)
66-16 current measured by the control valve of the machine (B308) of the magnet coil through contacts B10 and B11 is incorrect
66-55 control valves of the machine (B308) output pressure measured on terminal B14 of the computer is incorrect with regard to the current through the magnet coil
67-42 Faulty pressure sensors in the control valve of the machine (B308) due to: - short circuit,
67-43 With a nonactivated machine control valve, (B308) the pressure sensing output on pin B14 of the EBS device is too low or too high
67-51 machine control valve and speed> 30 km / h, (B308) touch output pressure signal on pin B14 EBS module - too low or too high due to: - defective pressure sensor
68-25 pilot valve (B308) due to: - short circuit,
68-32 Short to ground on pin B10 of the EBS unit,
68-33 Short circuit on pin B10 of the EBS unit,
68-34 Short to ground on terminal B11 of the EBS unit,
68-35 Short circuit, on pin B11 of the EBS device,
68-36 open at terminal B10 and / or B11 of the EBS device,
51-2 signal measurement in the potentiometer in the accelerator pedal sensor (F672) is not correct
51-4 no measurement signal in the potentiometer in the accelerator pedal sensor (F672)
51-8 Conflict between the position of the idling sensor and the output signal of the potentiometer in the accelerator pedal sensor (F672) due to: - short circuit,
52-8 After the ignition was turned on, the brake pedal was serviced several times (20x) while the accelerator pedal was still serviced
53-1 Short circuit in the tachometer of the MTCO machine speed sensor (B525) on track B29 ECU - Cruise control cannot be activated
54-1 Voltage too high in the atmospheric pressure sensor in the computer
54-2 Too low voltage in the atmospheric pressure sensor in the computer
54-4 ECU internal defect related to atmospheric pressure sensor
55-9 incorrect speed signal frequency using the electronically controlled fan clutch (B335) on track B30 ECU
56-1 unknown engine error detected by ECU
56-2 Unknown engine error detected by ECU
56-3 unknown engine error detected by the computer (no diagnostics)
56-4 defective / clogged nozzle cylinder
56-5 unknown engine error detected by the computer (no diagnostics)
56-6 unknown engine error detected by the computer (no diagnostics)
56-7 Unclassified engine fault detected by the computer
56-8 Unclassified engine fault detected by the computer (no diagnostics)
56-9 unknown engine error detected by the computer (no diagnostics)
56-10 Unclassified engine fault detected by the computer
56-11 Unknown engine error detected by ECU
56-12 Unclassified engine fault detected by ECU
56-13 Unclassified engine error detected by the computer (no diagnostics)
56-15 Unclassified engine error detected by ECU (no diagnostics)
82-4 Input signals, clutch pedal (E575), on pin B20
83-1 Short circuit, on track B28 ECU - speed / Engine torque limiting control